Hey there, everyone! Another quick update here:





I've been in contact with a couple people who still haven't submitted, so I've decided to extend the deadline by one week. The DUE DATE IS NOW MARCH 11TH!!

This is, however, unfair to the people who rushed to get their pieces in on the last day, so no more extensions will be provided. I will send out more reminder notes in the next couple days if there is still no response. Everyone will be receiving a gift, please don't worry!

Once you receive your partner name and list, please keep it a secret! Gifts will be
DUE BY MARCH 1st!
Open submissions since Valentine's Day is right around the corner, so no waiting period this time!
PLEASE NOTE:
If you need to drop out/feel that you cannot complete your submission, or you need a time extension, please inform myself (
SakuraNights
) or
Sir-Herp
ASAP! For more information, please refer to the complete rules list below! Thank you so much, everyone!





It's time for the newest event!! MOB VALENTINE 2017!!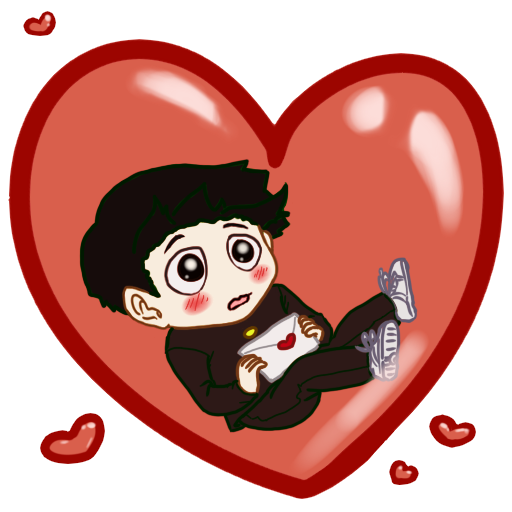 I'm certain this was predictable, but let's get started! This will be similar to Secret Santa, in that this is a Secret Valentine event! Show some love to your fellow MP100 fans!
Here are the ground rules to sign up (we've learned from the Mob Santa event, so this will go a little more smoothly)! Please review each bullet point carefully, and contact me (
SakuraNights
) or
Sir-Herp
if you have any questions or concerns!
---
How to Sign Up

Please
create a journal entry with your top 3 favorite characters
from Mob Psycho 100 and
link it in a comment
on this journal.

Your journal entry
must include a link to this announcement journal and/or link to this group
.

When you receive your Valentine partner on Jan. 25, you must
keep it a secret
and
don't upload your gift until we give the okay
!


You MUST be a member of the group to join in!
SIGN UP BY JANUARY 24th!!
Important Notes

Your gift can be drawn, painted, pixelled, or written
, whatever you are comfortable with so long as your gift is delivered digitally! (Note: Your gift DOES NOT have to include all characters on your recipient's list! The list is to give you ideas on who to depict, however you'd like.)

If you would like to be a backup artist
to fill in for people who drop out or join late, please let us know!

If you would like to join after Jan. 24:
Please note the group! We will try to find you a partner from our backup artists.

IF YOU FEEL YOU CANNOT FINISH IN TIME OR NEED TO DROP OUT:
Let us know ASAP!
We will do our very best to make sure every participant gets a Valentine gift, but if you drop out, please be warned that you may or may not receive a gift! Please plan your pieces and time accordingly!
---
I believe this covers all of the guidelines for this event. Also, in order to keep the group's journal entries clean, we will be UPDATING ON THIS JOURNAL ENTRY ONLY!

Let the sign ups begin! Remember, sign ups close on
JANUARY 24th!!
We hope to see you there!
---
Participants:




















---

UPDATE (Jan. 11):

"Well, put a doormat on me and come on in, because I am FLOORED at this turn up! In less that 24 hours, we already have 12 people! Thank you so much, everybody!! Don't stop there, though, as sign ups are still open until January 24th! Let's all have a wonderful time!!" --SakuraNights
"I'm not surprised, hah. Nice to see both new and familiar faces." --Sir-Herp